This is one of Leo Watt's songs based on the Confessions of St Augustine.
It was released on cassette and the sheet music is long out of print but it's worth another look I think. This is his version:
Audio clip: Adobe Flash Player (version 9 or above) is required to play this audio clip. Download the latest version here. You also need to have JavaScript enabled in your browser.
His original sheet music: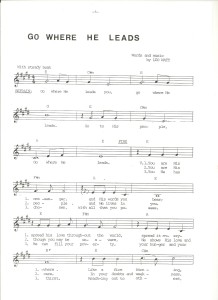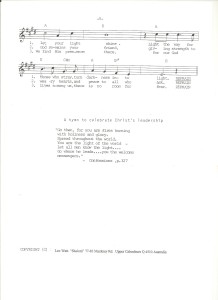 … and I made a backing for that:
Audio clip: Adobe Flash Player (version 9 or above) is required to play this audio clip. Download the latest version here. You also need to have JavaScript enabled in your browser.
In good folkie tradition the words and the notes don't exactly line up in the verses, but you can listen to him and get the jist of it and all is well.
I, on the other hand would like the words in the verses to line up to a tune, so I slightly rewrote things to achieve this:
Go Where He Leads (Leo Watt)

Chorus
Go where He leads you, go where He leads.
Go to His people, go where he leads.

1. You are His messenger, and His words you bear;
Spread his love throughout the world, go spread it ev'rywhere.
Like a fi-re burning, let your light shine.
Light the way for those who stray, turn darkness into light.

2. You are His pe- e-ople, and He lives in you.
Though you may be unaware, He shows His love and care.
In your doubts and weakness, God is your friend,
Giving strength to weary hearts, and peace to all who ask,

3. You He has cho-o-sen, all that you possess.
He can fill your poverty, hunger and your thirst.
Reaching out to others, We feel His love.
For our God lives among us, there is no room for fear.
© Leo Watt, used with permission.
This allowed me to simplify the sheet music thus:
… and likewise the backing:
Audio clip: Adobe Flash Player (version 9 or above) is required to play this audio clip. Download the latest version here. You also need to have JavaScript enabled in your browser.
Now I think that would be a great recessional. Wouldn't it be great to make Leo Watt famous by using his songs and rich by letting Word of Life or Licensing know you are using his songs?